Underwater Photographer - Ilse Moore
Your name:
Ilse Moore
Your business name:
Ilse Moore Photography
Tell us a bit about your business:
I'm an underwater portrait and fine art photographer. While I do shoot in various locations, I also have a free standing underwater studio where I do most of my work. I enjoy working on personalised private sessions, but my greater concern is with an international underwater fine art and advertising market.
I also run a wedding photography business with my partner.
How long have you worked as a photographer?
I got my first camera in 2009 when I studied Visual Art, but have been shooting full time since the end of 2011.
Do you feel it was an instant success or did it take a while to find its feet?
In many ways I am still finding my feet! People responded to the images very quickly and positively because underwater portraiture was still so rare when I started, but today I am trying to push myself much harder.
If any, what kind of jobs did you have before your career took off?
I was a private art teacher for about 7 years, but before that I worked for my dad's yachting business for a very short time, followed by selling drawings to doing waitressing for a few months (something that is a big part of growing up in a small town, a right of passage, so to speak, haha).
Do you feel that you chose your "passion," or did it choose you?
From a creative side, it certainly chose me, but I chose photography as my means of expression, especially during my studies. I got into underwater photography shortly thereafter and it's been a growing passion ever since. At least picking up a pen and sketching is something I still get to do!
What made you decide to follow a creative career choice (though possibly risky) rather than something more stable?
I don't think I ever decided it, it was just always going to happen.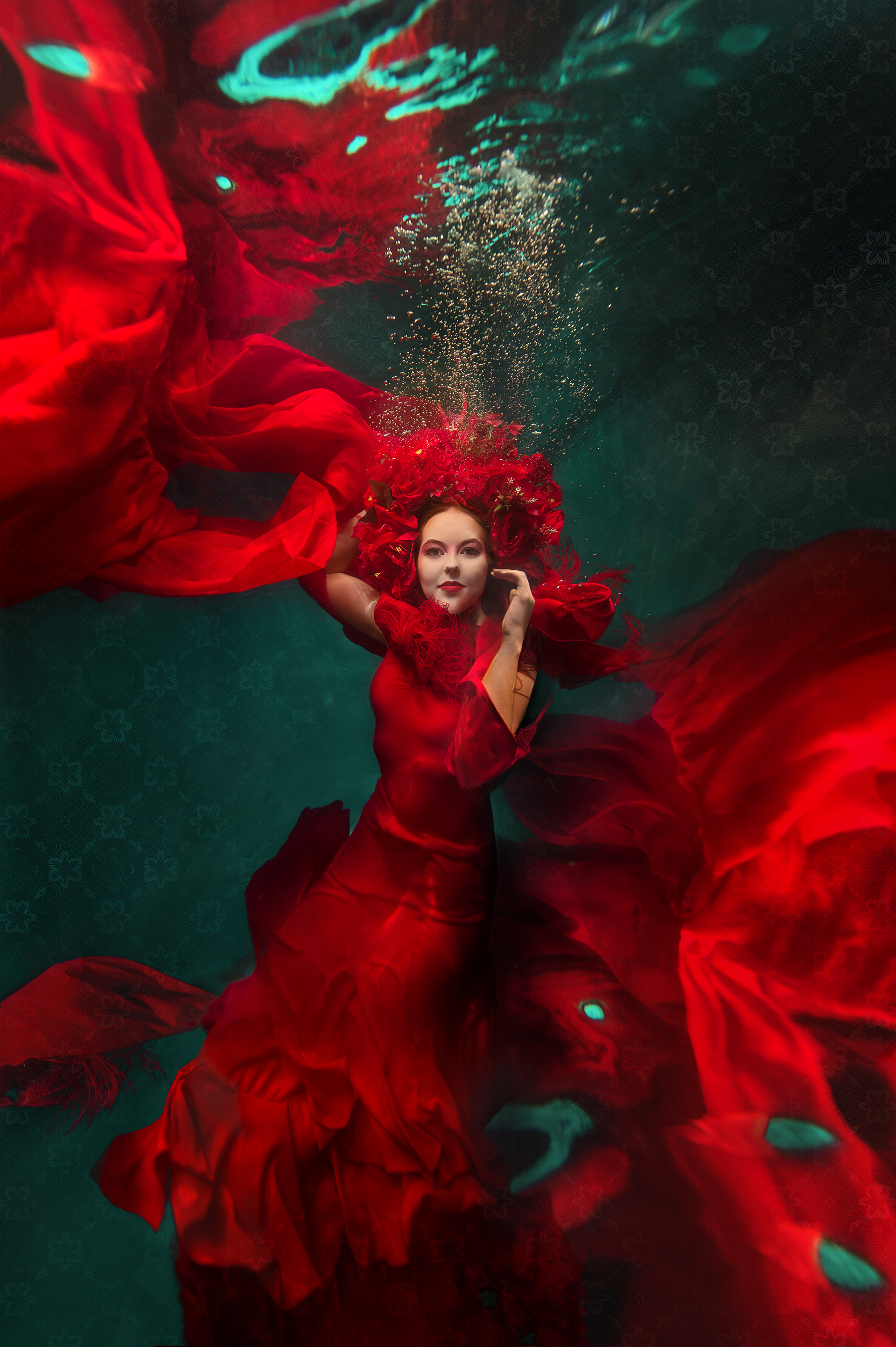 Have you ever doubted your talent? If so, how did you work through your doubt?
Certainly, it's a difficult genre that involves a variety of technical ability as well as a quick and creative eye. Being realistic about ones growth and reminding yourself of why you are even doing it in the first place, makes it easier to have some perspective and allow the work to evolve. I still doubt, but I'm also learning to be kind to myself.
What is your favourite accomplishment?
There's a lot things that have made me feel very excited, but my favourite has to be having completed my own underwater studio! It's been a project with many ups and downs, but I have learnt so much during the process and now have a space that I can use to bring my ideas to life with no hinderance. It makes me so grateful, not only because of the creative possibilities that the studio gives me, but because I can do this only by the people in my life who have invested so much time and knowledge into the project.
Where should Working Creatives get more info on workshops / your offerings?
They can go to my website or Facebook as well as Instagram pages.
What is your favourite lens and why?
I love my 16mm fisheye lens! It comes with its challenges, but we have an understanding!
I have also recently started using my 50mm or 24-70mm a lot more for wide aperture underwater portraiture, so this may soon change…
Are you working on any out of the ordinary projects at the moment?
I do have a few personal projects that I have started story boarding, but can't say much about that yet. Other than that I am still collaborating with James Grace and Carli Spanish Dance Productions on the colourful Spanish Dance theatre production RECUERDOS. It's coming to the Pieter Toerien Theatre at Montecasino next in September. It's a a music, dance and visual performance where I will have related underwater pieces exhibited as well as beautiful underwater motion projected on stage. It is also exciting working underwater with the actual dancers and we've been loving following the show around!
JUST FOR FUN
What is playing in your CD player/iPod right now?
LP (Laura Pergolizzi), and then whatever is on my playslist thereafter
What's your favourite '90s song?
I'm too embarressed to say…
What do you think about when you're alone in your car?
I talk to myself a lot or sing aloud when I'm alone! I think about everything I drive past, I'm easily distracted. My husband thinks I come up with the strangest questions.
What were you like in high school?
I had a couple of very close friends, but got along with everybody. I did very well in school, especially in maths, until I started spending most of my time around the art class during my matric year. Needless to say all my other marks dropped significantly!
Knowing what you know now, what would you tell your high school self?
Don't let people get to you and keep reading!
YOUR CONTACT INFO
Your website: www.ilsemoore.com
Instagram handle: @ilsemoore
Twitter: @ilsemoore
Facebook: Ilse Moore Art and Photography
Other: https://www.behance.net/ilsemoore